Article: Scriveiner London Has Achieved a King's Award for Enterprise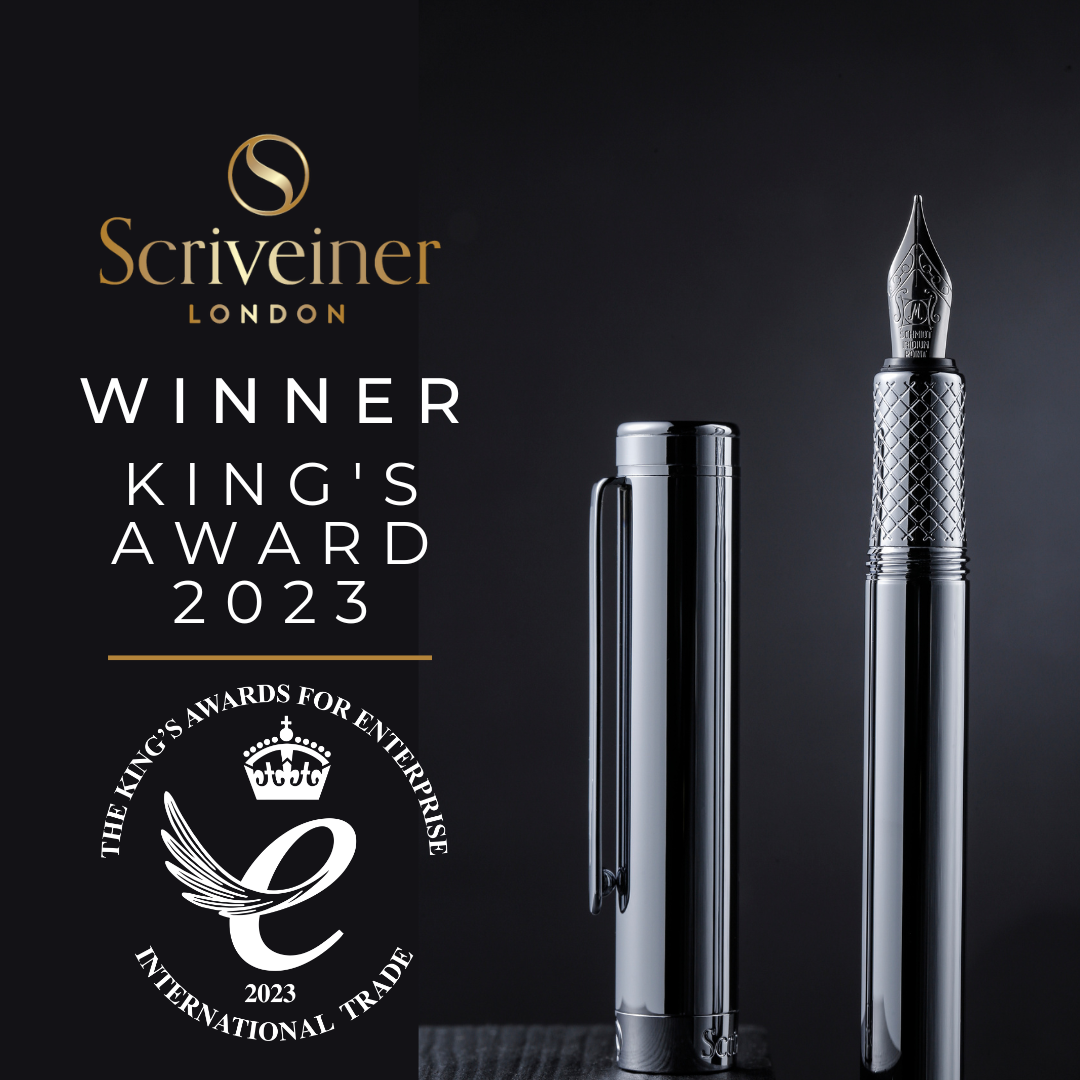 Scriveiner London Has Achieved a King's Award for Enterprise
Scriveiner London Has Achieved a King's Award for Enterprise 
The prestigious award recognizes the UK's leading designer and manufacturer of affordable luxury stationery
LONDON- (April 21, 2023) Scriveiner London, the UK's leading manufacturer of affordable luxury stationery products, has been honoured with the first-ever King's Award for Enterprise: International Trade. The Award programme, now in its 57th year, is the most prestigious business award in the UK. 
To win, it demonstrated outstanding success in global expansion, having grown international sales by more than 600% over the previous three years.
"We are thrilled to be the recipient of such a prestigious award as the King's Award. Our incredible growth combines true British design and the premium quality of our products. Our understated design and obsession with craftsmanship resonated with customers around the world. Winning the King's Award is a wonderful endorsement of this approach." Justin Lowes, founder and CEO, Infinity Brands Limited.
Scriveiner London was founded by successful entrepreneurs Yanning Li and her husband Justin Lowes, who have lived in Asia, North America, and Europe. They subscribe to a lifestyle of 'luxury minimalism,' believing in owning fewer possessions —but those possessions they own are of the finest quality to ensure they last. The mindful practice, less wasteful and more environmentally conscious, is a founding principle that guides their strategy for growing the Scriveiner range.
The couple identified a gap in the market for a British brand of high-quality pens and journals designed as luxury items and sold at affordable prices. In creating Scriveiner, their work together has resulted in the design and manufacturing of an identifiably British product that captures the imagination of discerning consumers across the globe.
Designed and launched in the UK in 2019 with online distribution channels, the
Scriveiner range became the Bestseller in its category on Amazon over Christmas for the past four years. Scriveiner has sold more than 500,000 pens worldwide and is now available in one of the USA's largest retail chains.
The King's Awards for Enterprise was previously known as The Queen's Awards for Enterprise. The new name reflects His Majesty The King's desire to continue the legacy of HM Queen Elizabeth II by recognizing outstanding UK businesses.
About Scriveiner London
Infinity Brands Limited (IBL) owns the Scriveiner London brand. Scriveiner has rapidly grown to become the UK's leading designer and manufacturer of affordable luxury stationery since its launch in 2019. The Scriveiner range became an official bestselling brand on Amazon's US and UK marketplaces, trusted by hundreds of thousands of customers worldwide. IBL was founded by entrepreneurs Yanning Li and her husband Justin Lowes, who, having lived internationally, subscribe to a lifestyle of 'luxury minimalism'. The mission of establishing Scriveiner is to create beautiful, fit-for-purpose items that enrich people's lives in their everyday use. For more information, visit Scriveiner.
https://finance.yahoo.com/news/scriveiner-london-achieved-kings-award-192500507.html