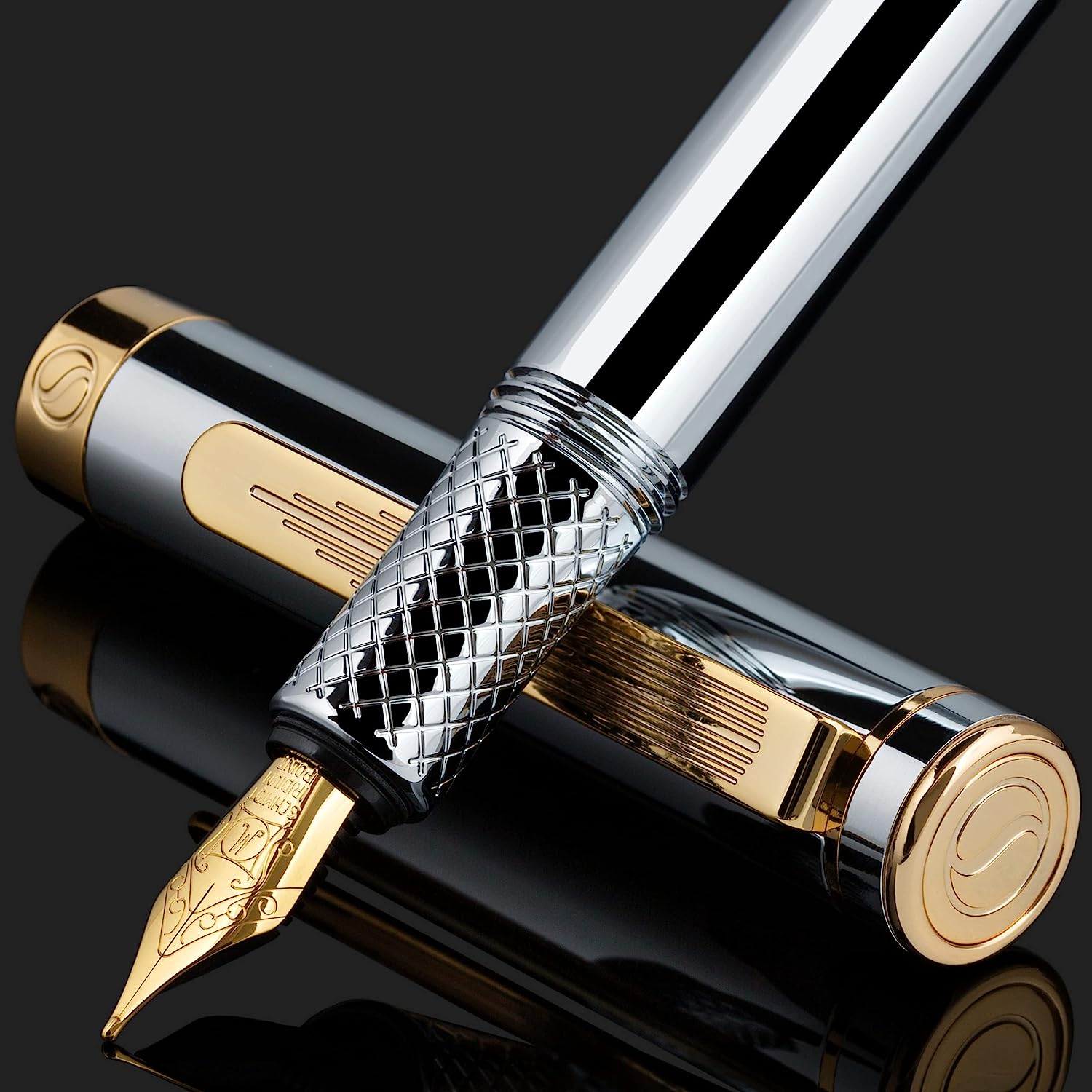 Scriveiner Silver Chrome Fountain Pen (Medium), Award Winning Luxury Pen, Heavy Pocket Pen with 24K Gold Finish
Sale price

$59.99 USD
Regular price
(/)
Dimension

Pen Box Dimensions
17.5 x 6.5 x 4.4 cm

Weight
0.17 kg
Luxury Pocket Fountain Pen by Scriveiner
This heavy pen is precision engineered from solid brass, with a silver chrome finish and 24 karat gold appointments. The quality of craftsmanship and materials is usually to be found only in pens costing many times more. This is a pen that will impress in any environment. Whether in an executive boardroom, a coffee shop or on the road, your pen will draw admiring glances and comments.
Convenient Size, Perfect Balance
The solid brass barrel has threads machined at both ends. This allows the cap to be closed or posted securely. When closed, this is a pocket pen that slips easily into your pocket. When posted, this is a full-size pen with perfect balance.
A Superb Writing Experience
Our pens use a German Schmidt nib which has a beautiful feel and allows you to write effortlessly. You will love the smooth writing style and our pens are perfect for beautiful calligraphy.
Exquisite Presentation Gift Box
The pen is beautifully presented and a hidden compartment underneath holds two cartridges. Whether for an anniversary, for Christmas, for a birthday present or simply for yourself, whoever receives this pen will be delighted. If you are looking for the perfect gift for any occasion, look no further!
Includes:
✔️ Fountain Pen (50g / 1.8 ounces including cap) with installed Schmidt converter
✔️ Presentation Gift Box
✔️ Two spare cartridges (one black, one blue) in envelope under pen tray
✔️ Warranty Card
Buy With Total Peace of Mind!
We are so confident that you will love your Scriveiner pen that we offer a 2-year replacement warranty. Simply register your pen upon purchase. And, if for any reason you feel the need to return your pen within the first 30 days, we guarantee a full refund.
So what are you waiting for? Click add to cart now to order this incredible pen!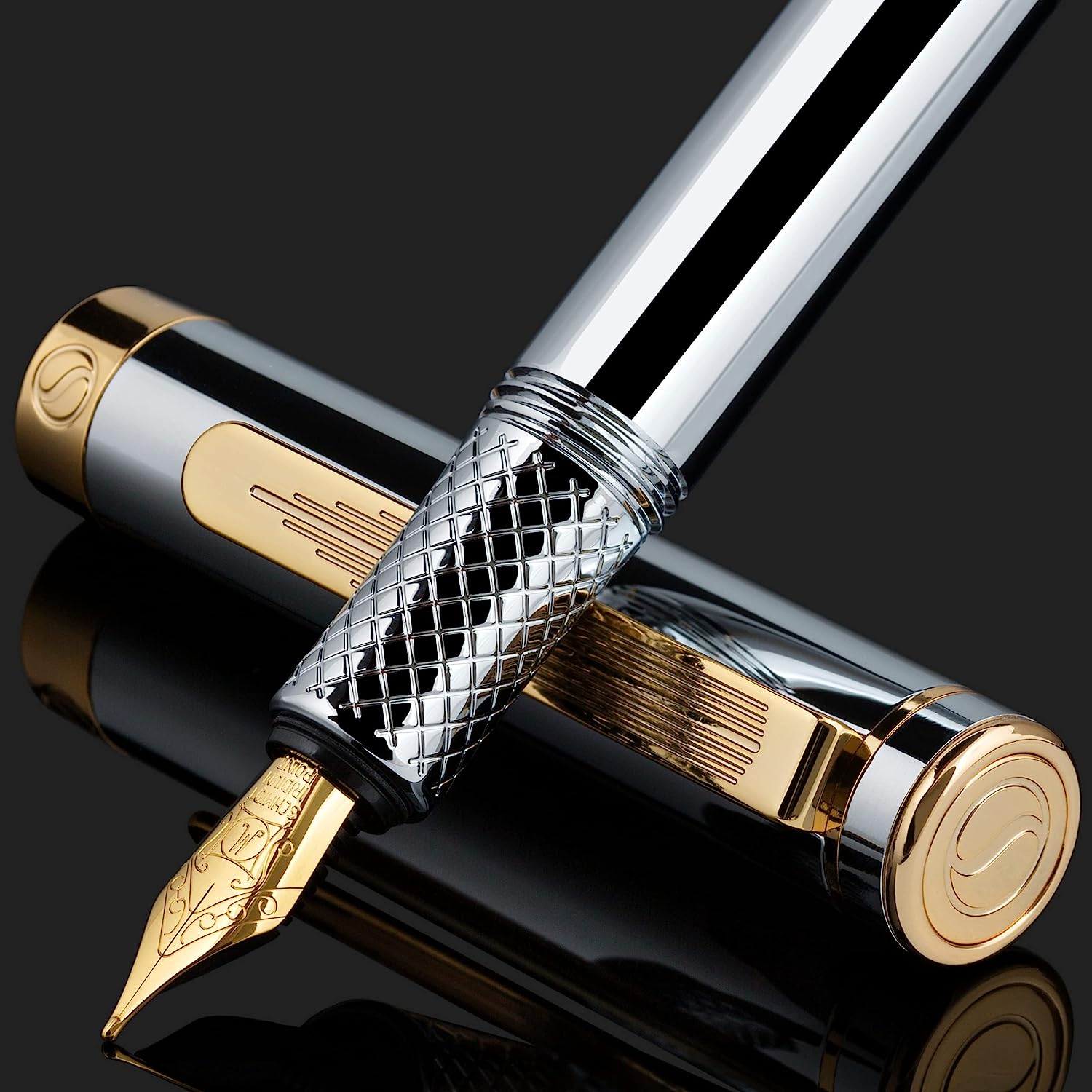 Scriveiner Silver Chrome Fountain Pen (Medium), Award Winning Luxury Pen, Heavy Pocket Pen with 24K Gold Finish
Sale price

$59.99 USD
Regular price
Choose options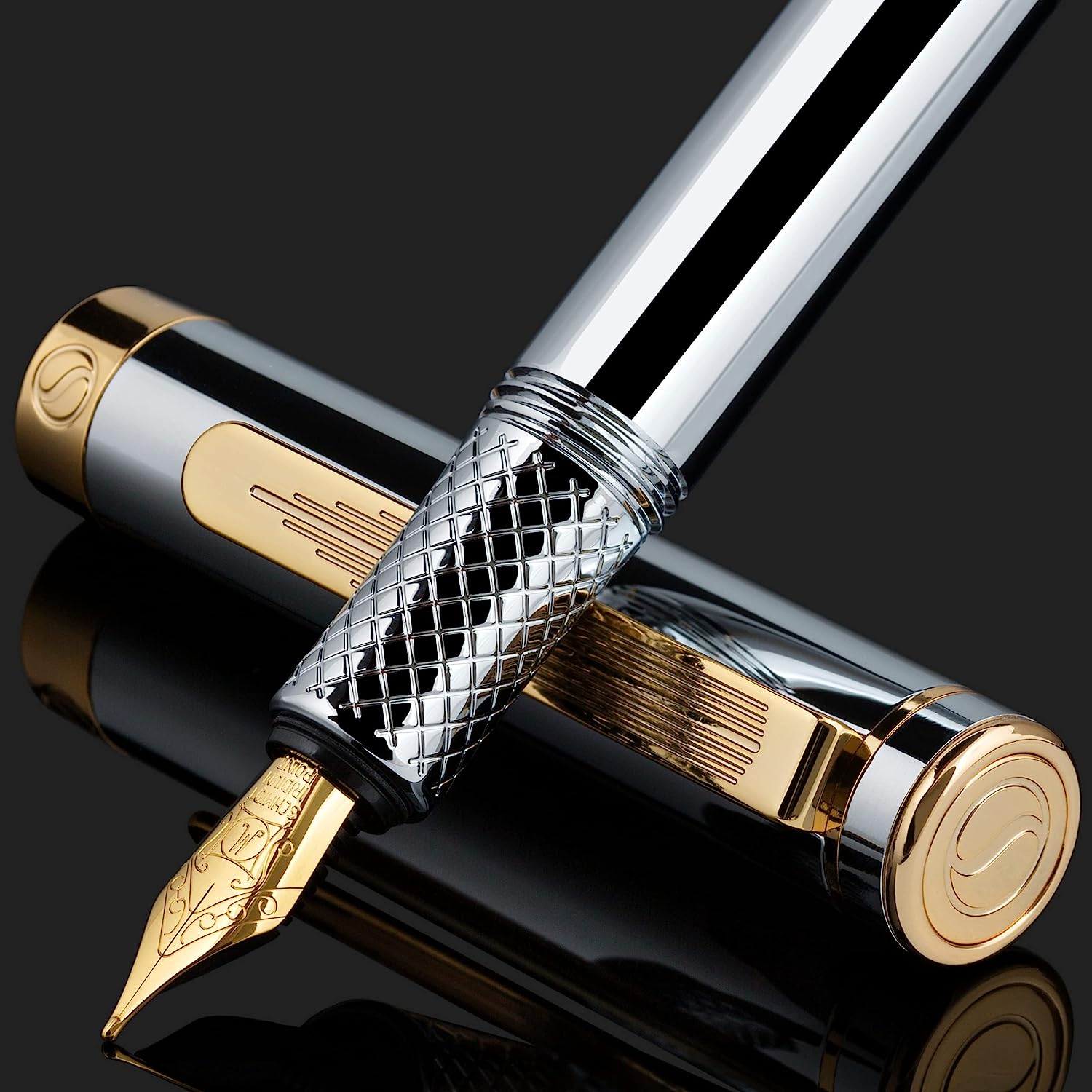 Superb!!
I purchased this as a gift for a family member. As always, I open all gifts in advance to inspect them for any flaws or defects in case I need to get a replacement (at least that's what I tell people). First thing I noticed was the beautiful presentation, from the box to everything with gold writing and oriented in an upright position. I've always had somewhat of a proclivity for nice pens but haven't ever really purchased high quality expensive pens. Anyway, after holding this pen, I had an immediate desire to own one, so I will be purchasing another one for myself. This pen has an elegant alure that just invites one to stare. If it writes as well as it looks I may never use another pen after I purchase one for myself. The only draw back is having to wait until it gets opened at x-mas before I get to test it's performance.